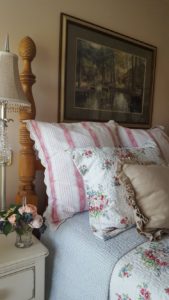 I can't remember when we've had so much rain and to be honest, I'm really glad that the rainy season is behind us – bring on spring!
It happens every year – as winter turns to spring, the house looks as drab as the rainy skies.  How to deal with post winter blahs?  Try some of these ideas in your home.  This week we'll focus on different rooms – today's is the bedroom:
In your bedroom, remove heavy blankets and bedding – you won't need those heavy layers now that the sun is shining.  Instead, opt for bright cheery colors! New bedding is a great and inexpensive way to transform a bedroom.  Find bedding that you LOVE and repeat the colors found in the bedding throughout the room in pillows, window treatments, lamps, accessories – even an updated piece of art!  Nothing's better than being surrounded by the colors you love!