Class A Driver-$2,000 Sign On Bonus!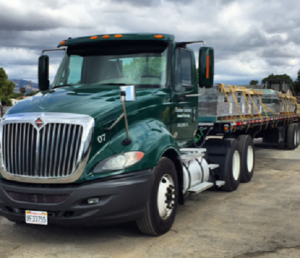 If you are a licensed Class A Driver who is looking for a rewarding, local opportunity with an established Landscape & Paver Supply Company, we want to hear from you!
Job Responsibilities:
• Treating customers in a friendly and professional manner
• Conducting a safe work zone during each job site
• Adhering to assigned delivery schedule and following all job directives precisely
• Documenting each delivery
• Using your discretion to avoid damaging job site property/equipment when unloading materials
• Obeying all regulatory agency and company safety directives
• Working in cooperation with the Dispatcher to determine where to set the materials and physically unloading them
• Providing warehouse support as needed
• Completing a thorough load check on your truck before leaving the yard/manufacturer site, ensuring that all delivery materials are firmly secured and all parts of your truck are in compliance with all federal, state, and local regulations
• Obeying all traffic laws and weight limits
• Completing and filing all logs and required paperwork in a precise and timely manner
Additional responsibilities include, but are not limited to:
Ensuring compliance with applicable federal and/or state laws, regulations, and/or company rules, standards and guidelines
Detecting and eliminating or minimizing safety hazards maintaining accurate records and logs
Other tasks as assigned
Specific Qualifications:
• Valid CDL – Class A
• The ability to lift 75-100 pounds
• Pre-employment drug screen and random drug screens
• Forklift experience (Willing to train/certify if needed)
• Medical Card
• Knowledge of DOT laws
• Ability to communicate in English
About Outdoor Solutions Landscape & Paver Supply:
Strong Safety Culture
Safe & Reliable Equipment
Stability: Outdoor Solutions Landscape & Paver Supply offers our drivers year- round employment.
Benefits: Health, Dental, Vision, Paid Holidays, and Cell Phone Allowance
SAFETY IS A PRIORITY at Outdoor Solutions Landscape & Paver Supply! In order to be considered you must have a clean DMV record.
Operating Days/Salary:
Monday – Friday (Occasional Saturdays – due to business needs)
Full time or Part Time basis
Pay Rate- $20-$25 *Depending on experience*
$2,000 Sign On Bonus!
Outdoor Solutions Landscape & Paver Supply is proud to be an Equal Opportunity Employer and Drug Free workplace. All qualified applicants will receive consideration for employment without regard to race, religion, color, national origin, sex, sexual orientation, gender identity, age, status as a protected veteran, among other things, or status as a qualified individual with disability.
If you are interested in this opportunity, please submit your resume/DMV printout.
Or you may also stop by the office and ask for Miriam:
6300 Monterey Rd
Gilroy, Ca 95020
Monday-Friday 8:30 AM-5:00 PM
NO PHONE CALLS PLEASE!
Job Type: Full-time
Salary: $20.00 to $25.00 /hour